PHOTOS : 2 ARTWORKS BY GREG MIRZOYAN
Par Frenchyfries, lundi 9 mars 2009 à 18:13
Deux légendes, deux spots, un paquet de tricks et au final, deux très beaux travaux. La plupart d'entre vous connait déjà Mathieu Heinemann, reconnu sur la scène internationale avec un énorme profile dans Life+ 4. En revanche, le nom de Greg Mirzoyan vous est peut-être un peu moins familier.
Two legends, two spots, a bunch of tricks and in the end, two beautiful pieces of work. Most of you already know Mathieu Heinemann, highlighted on the international scene with a powerful profile in Life+ 4. On the other hand, the name of Greg Mirzoyan may sound a little less familiar to you.
Patineur talentueux originaire de la région parisienne, et une légende française, Greg s'est fixé au cours des années de nouveaux objectifs, et avec le temps son travail de photographe est devenu assez impressionnant. Des deux spots roulés ce jour là dans la farine, et des nombreux tricks de Mathieu, Greg a tiré ces deux collages de photos, mettant en valeur son sujet de façon originale.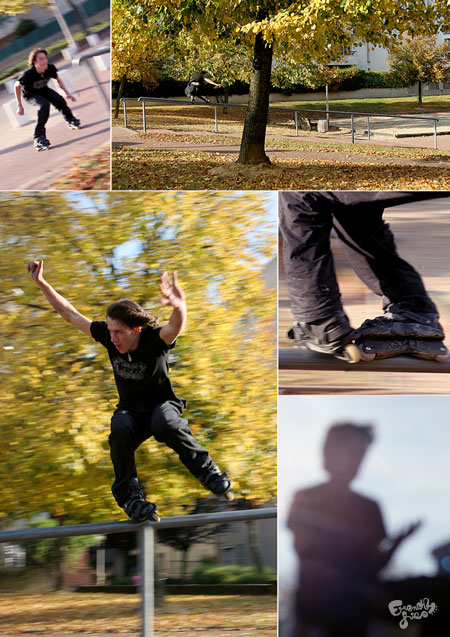 A really talented skater from Paris, and a French legend, Greg has set up new goals for himself in the past years, and his work as a photographer has become quite impressive. From the two spots skated that day, and the many tricks Mathieu laid down, Greg came up with these two collages of pictures, depicting his subject in his very own way.
Nous espérons que vous apprécierez ces travaux, et attendez vous à une collaboration plus poussée dans le futur, si le planning surchargé de Greg le lui permet. Enjoy !
We hope you appreciate it, and expect to see a more in-depth collaboration with him in the future, if his busy work schedule allows Greg to do so. Enjoy !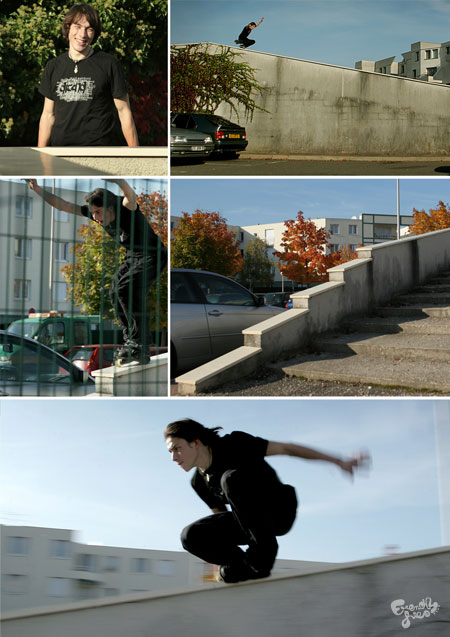 Partager sur Facebook