MONTAGES : FRENCHYFRIES VIMEO CHANNEL
Par Jey, vendredi 10 avril 2009 à 17:26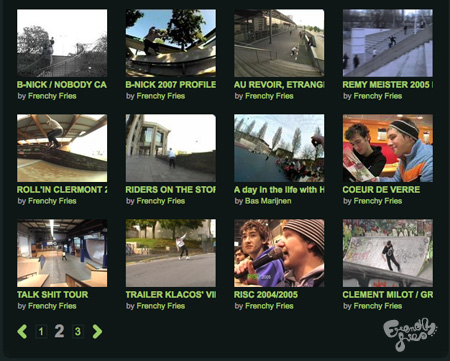 Frenchy Fries s'est toujours appliqué à produire un travail de qualité, et tout particulièrement en ce qui concerne les vidéos. Par conséquent, nous avons toujours fait attention aux moyens de diffusion de nos edits, pour que vous puissiez profiter du roulage, du filmage & du montage, et de l'effort global qui y était apporté, de la meilleure façon qui soit.
Frenchy Fries has always been willing to produce some quality content, especially when it comes to video edits. In consequence, we have also been concerned about the way we showcase said edits, so you can enjoy the skating, the filming & the editing, and the overall effort that is put into it, in the best possible way.
Nous avons lancé le site avec un lecteur Quicktime intégré aux articles, accompagné de liens pour télécharger la vidéo ou la regarder en streaming. Cela a bien fonctionné pendant un moment, mais pendant ce temps les stars
Dailymotion
et Youtube se sont vues dépassées par le challenger Vimeo. Ainsi, il y a quelques mois nous avons choisi de simplifier les choses, tout en restant fidèles à la qualité, et sommes passés à
Vimeo
.
We started off with an embedded Quicktime player, along with inks to a streaming version and a downloadable file. It worked fine for a while, but in the meantime streaming stars
Dailymotion
and Youtube were challenged, and then defeated by newcomer Vimeo. Thus, a while ago, we chose to make it all more simple, and still stay true to the quality, and switched to
Vimeo
.
Aujourd'hui nous passons un cap supplémentaire, avec la création d'un
Channel Vimeo
. Non seulement vous pourrez y trouver nos edits les plus récents, mais également toutes les vidéos diffusées sur Frenchy Fries auparavant. A présent, nous nous attachons à ajouter encore du contenu, avec des edits de nos vidéastes collaborateurs, des montages d'archive, des trailers et d'autres surprises. Ajoutez-nous à vos contacts, et inscrivez-vous pour voir les nouveaux edits avant tout le monde !
Frenchy Fries VIMEO Channel
Now we take it a step further, and created a
Vimeo Channel
for all of you to enjoy. Not only can you find our most recent edits, but we have also uploaded all the edits that were previously shown on Frenchy Fries. Now, we are in the process of adding even more content, including past edits from our videographers, archived montages, trailers and more surprises. Add us and check the old edits, subscribe and watch the new stuff before everyone else !
Frenchy Fries VIMEO Channel
Partager sur Facebook