LA BONNE BOUFFE : INDIANA'S PUNCH BURGERS REVIEWED
Par Frenchyfries, dimanche 13 janvier 2013 à 16:35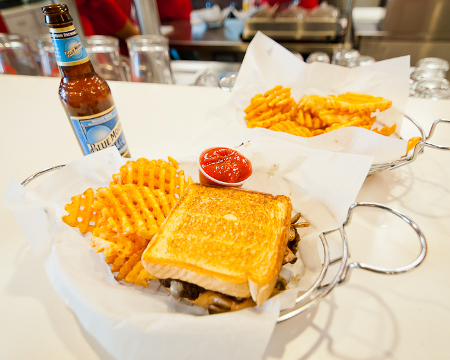 Avec deux restaurants situés à Indianapolis (Broad Ripple et downtown), Punch Burgers propose de la viande de bœuf Angus élevé à la bonne herbe du coin, des pains savoureux et une grande variété de garnitures: tous les ingrédients pour proposer à des clients une combinaison sans fin pour créer et personnaliser son sandwich. On y retrouve également bières & vins locaux, ce qui ne gâche rien.
With two Indianapolis, IN locations (Broad Ripple and downtown), Punch Burger offers locally raised grass-fed Angus beef, gourmet buns and a wide variety of toppings: all the ingredients needed to give their customers a seemingly endless combination for custom burger creations. Punch also offers local craft beer & wine.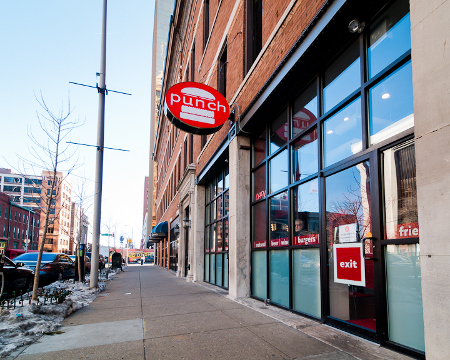 L'atmosphère chez
Punch
varie en fonction de l'heure à laquelle vous passez la porte. Parfois la file d'attente dépasse ladite porte, en particulier à l'heure du déjeuner, même au cours de l'hiver où les températures oscillent entre et +4° et -7°. Le mobilier en métal brillant, et les chaises, tabourets et tables en plastique permettent également d'y déguster des programmes sportifs sur l'écran plat géant situé au-dessus du bar.
The atmosphere at
Punch
varies depending on what part of the day you pop in. Sometimes, mostly during the lunch hour, the line is out the door, even in the winter where temperatures can be between 20 F and 40 F. The furniture is sleek metal and plastic stools, chairs and tables. There is a large, flat screen TV tuned to a sports channel in the bar area.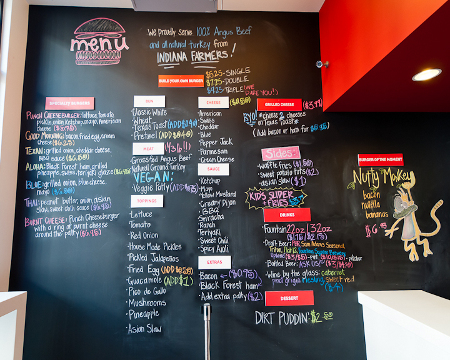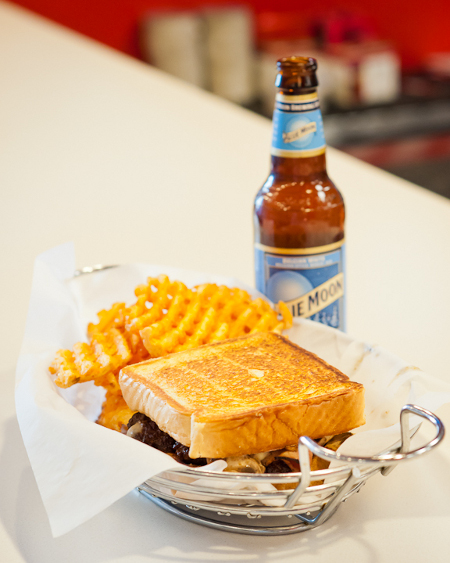 La nourriture y est bonne, très bonne. Les burgers sont assez dispendieux, mais les accompagnements beaucoup plus raisonnables. Il est bons de savoir également que les ingrédients utilisés sont produits localement, sans pesticides dangereux, antibiotiques et hormones de croissance. Et que les animaux y sont élevés (et abattus) humainement. Il semblerait aussi qu'on joue de la musique classique dans les serres où poussent les légumes, à moins qu'il ne s'agisse de fables colportées par les employés aux nouveaux venus.
The food here is great. The burgers are a bit pricey, but the sides are very reasonable. It's nice to know that the items they use to prepare your food are locally grown and raised, without any extra crap like dangerous pesticides, pink slime filler, hormones or antibiotics. All animals are raised and slaughtered humanely. And I think that they play classical music in the greenhouses they grow the vegetables in, but that was just something I overheard one of the employees say to a new hire, that part could be entirely made up.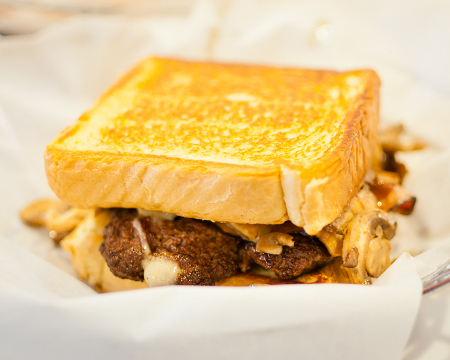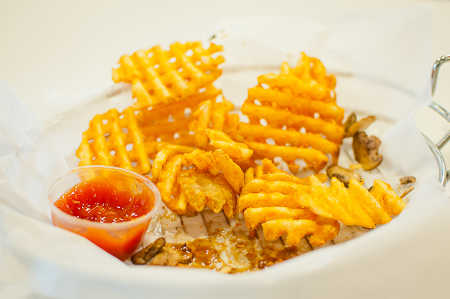 Ils proposent un tas de garnitures inhabituelles pour un restaurant de burgers, comme des bananes, du beurre de cacahouète et du Nutella. La plupart de ces garnitures sont gratuites... Et illimitées.
They have some unusual toppings for a burger place on the menu, including bananas, peanut butter and Nutella. Most of the toppings are free, with no limit on how many you can choose.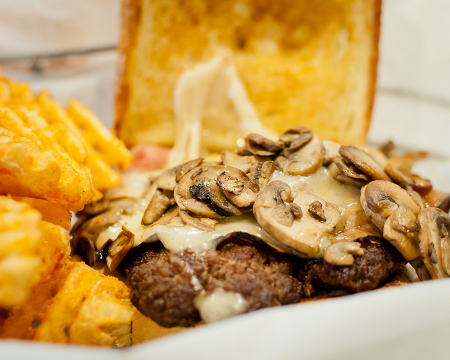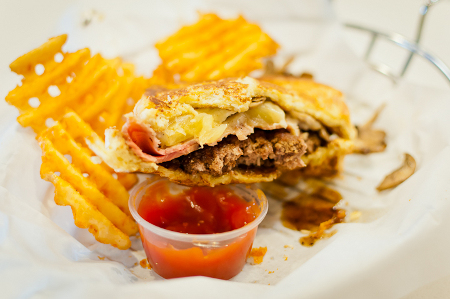 Pour ma part, j'ai commandé un Aloha burger (jambon
Black Forest
, ananas grillé, fromage suisse et sauce Teriyaki) avec champignons sur un
Texas toast
, deux portions de frites gauffrées et une bouteille de bière blanche Belge Blue Moon. A 11 heures du matin.
Hell yes
. Je ne bois jamais avant midi. Et en cette occasion, ça n'est pas vraiment un souci puisque mon menu doit peser autour de 600 grammes, la bière permettant ainsi de faire glisser tout ça dans mon estomac.
Today, I ordered the Aloha burger (Black Forest ham, grilled pineapple, Swiss cheese, teriyaki glaze) with mushrooms on Texas toast, two orders of waffle fries and a bottle of
Blue Moon Belgian White beer
. At 11 am. Hell yes. I never drink before noon. It didn't even matter, an Aloha burger and two orders of waffle fries is about 1.25 lbs. (.57 kilograms), so the beer just gave the food something to splash around in as I filled my belly to capacity.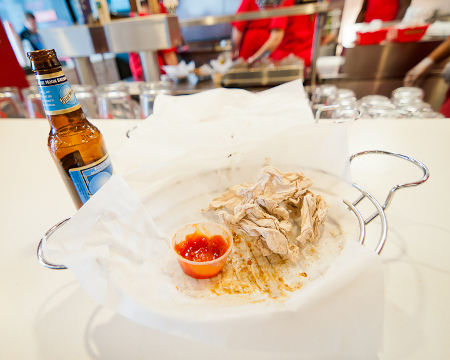 Le prix pour 30 minutes au paradis était juste en dessous de 15$. C'est un bon endroit pour déjeuner de temps en temps. Il est déplorable pour mon compte en banque que Punch soit situé juste en face de mon bureau dans le centre d'Indianapolis. Chaque fois que je me rends à ma banque, le vent m'apporte les bonnes odeurs émanant de l'arrière-cuisine de chez Punch. Me suis-je déjà privé de m'arrêter pour vivre le rêve ? Pas une seule fois.
The price for 30 minutes in heaven was just under $15. This place is a "once in a while" spot to eat lunch at. I'm afraid for my bank account that Punch is directly across the street from my office in downtown Indianapolis. Whenever I walk to the bank, I catch wind of the wonderful smells emanating from the exhaust fan in the alley behind Punch. Do I linger, and dream for a moment? Every damn time.
Pictures & write-up by Vincent Morretino. Translation & team work by Frenchy Fries.