Par Frenchyfries, dimanche 13 janvier 2013 à 16:35 ::: 2253 fois lus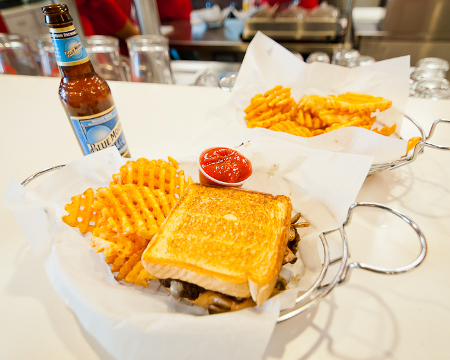 Avec deux restaurants situés à Indianapolis (Broad Ripple et downtown), Punch Burgers propose de la viande de bœuf Angus élevé à la bonne herbe du coin, des pains savoureux et une grande variété de garnitures: tous les ingrédients pour proposer à des clients une combinaison sans fin pour créer et personnaliser son sandwich. On y retrouve également bières & vins locaux, ce qui ne gâche rien.
With two Indianapolis, IN locations (Broad Ripple and downtown), Punch Burger offers locally raised grass-fed Angus beef, gourmet buns and a wide variety of toppings: all the ingredients needed to give their customers a seemingly endless combination for custom burger creations. Punch also offers local craft beer & wine.
En savoir plus
un commentaire
Tags: Aloha , Blue Moon , Bouffe , Indiana , Punch Burgers , Vincent Morretino