MONTAGE : BLING BLING CONTEST FINAL SPOT EDIT
Par Frenchyfries, dimanche 27 juin 2010 à 12:42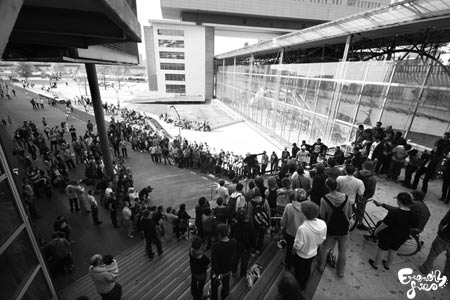 Au fil des ans, de nombreux tricks ont été replaqués sur le célèbre rail d'Euralille. La raideur de marches, et les pavés à l'élan comme à la réception en ont fait un endroit connu, reconnu, et le temps l'a consacré comme un spot de légendes et d'histoires. Ainsi, ce rail paraissait un choix évident en tant qu'obstacle final du Bling Bling contest.
Throughout the years, many tricks have been landed on the infamous Euralille down rail. The steep stairset, and cobblestone run-up and landing have made it quite famous, and with time it has become a place of legends and history. Therefore, it seemed like an obvious choice as a final spot for the Bling Bling contest.
De la session habituelle et l'apéro qui l'accompagne, où l'on pouvait voir Idir Ounchiouene se défouler frénétiquement en pleine nuit, jusqu'au street contest occasionnel où Rémy Meister a pu s'appliquer à rentrer des tricks inoubliables, cette barre de fer s'est forgé une sacrée réputation, et l'histoire s'est faite sur ses marches assassines.
From the usual drink & skate sessions where you'd see Idir Ounchiouene busting out at night, to the occasional street comp where Rémy meister laced tricks that won't ever be forgotten, this rail has made a reputation for itself, and history has been made on these deadly stairs.
BLING BLING REPORT - STREET CONTEST from Frenchy Fries on Vimeo.
Cette année encore, les participants ont mis un point d'honneur à détruire le spot, et en dépit de violentes chutes, il est certain qu'ils ont réussi. Notre vidéaste favori Samuel « Bodchoy » Courdent en a capturé le folie et l'atmosphère, et c'est à présent votre tour de découvrir ce spot légendaire, tout en appréciant le court montage ci-dessus !
This year again, contestants made it a point to destroy said place, and despite the harsh falls, there is no doubt they actually succeeded. Our favorite videographer Samuel « Bodchoy » Courdent captured the madness and fun, and now it's time for you to discover this legendary spot and enjoy the short edit above !
Photo credit : Antony Pottier - full cab true mizou - picture by AL.

Video edit by Samuel "Bodchoy" Courdent.