LA BONNE BOUFFE : LOU HENRI CONNECTING IOWA
Par Frenchyfries, vendredi 20 août 2010 à 10:38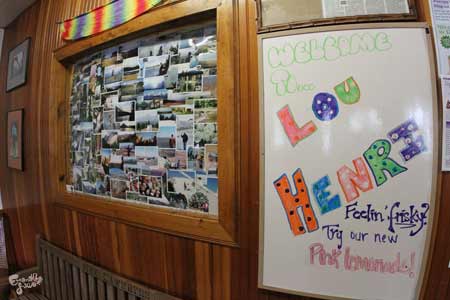 Bruce James Bales n'est pas seulement l'homme aux commandes
d'Iowa-Connection
, présentant photos et
vidéos
dans le but d'unifier la scène locale: aujourd'hui Bruce est aussi notre reporter culinaire. En compagnie de Phil Austin, il nous explique comment Lou Henri est devenu un lieu important, contribuant ainsi à réunir la scène à roulettes. Bonne lecture !
Bruce James Bales is not only the main man behind
Iowa-Connection
, showcasing pictures &
producing videos
in order to bring the scene together: today, Bruce is our food reporter as well. Along with Phil Austin, they explain to us how Lou Henri has become a hot spot and helped unite the local blade forces. Read on !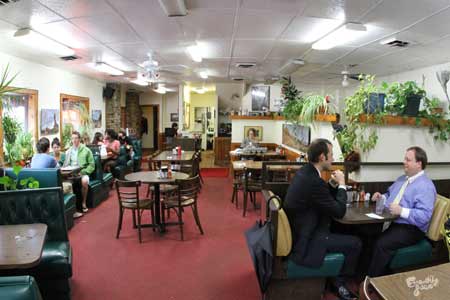 Inside the establishment.
"La première fois que j'ai mangé chez Lou Henri, c'était après une longue nuit de rigolade et de beuverie, alors que mon estomac réclamait un petit déjeuner conséquent. A l'époque, tout ce que je savais de cet endroit, c'est qu'il était ouvert jusqu'à 3 heures de l'après-midi. M'étant réveillé à 1 heure, c'était l'endroit rêvé pour apprécier le repas le plus important de la journée.
"When I first ate at Lou Henri, I woke up after a long night of laughs and beverages only to be fully compelled to eat a delicious breakfast. The only knowledge I had of this soon to be favorite place was it that it was open until 3 p.m. This was perfect for me because I had woken up at 1 p.m. when there aren't many opportunities for the most important meal of the day.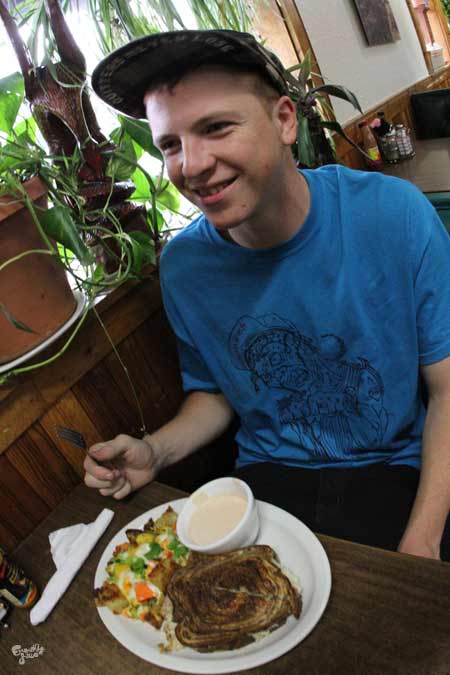 Jefferson enjoying veggie home fries and a sandwich.
Après m'être assis et une rapide consultation du menu, j'ai remarqué un plat unique dont je suis un inconditionnel depuis lors: l'omelette Pueblo. Une délicieuse préparation au fromage, accompagnée de salsa maison, de bacon, de dinde et d'avocat. Parmi mes plats favoris, il y a aussi les Jackson Eggs (une déclinaison des Œufs Bénédicte par Lou Henri)et le Banana French Toast (servi avec des noix et des tranches de banane).
After sitting down and perusing the menu, I noticed a unique item that has hooked me ever since, the Pueblo omelette. A cheesy concoction smothered in home made salsa stuffed with bacon, turkey and luscious avocado. Other favorites of mine have been the Eggs Jackson (a Lou Henri spin on eggs Benedict) and banana bread french toast (served with walnuts and banana slices).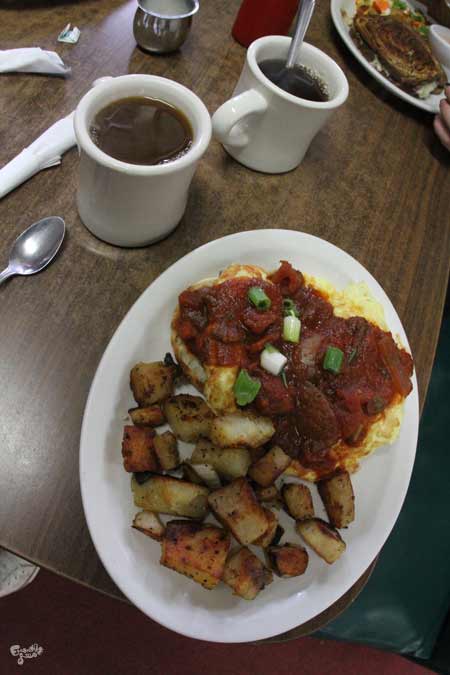 Huevos Diablos.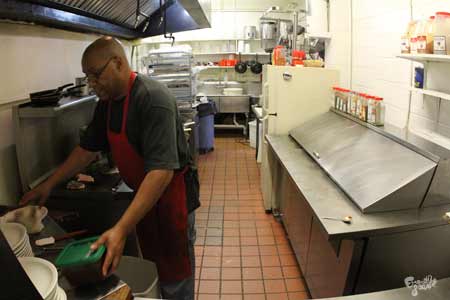 Jeffrey Currie, the owner, hard at work in the kitchen.
Au cours des trois années qui ont suivi cette première expérience, j'ai invité bon nombre de mes amis de passage à partager un bon repas avant d'aller patiner, et beaucoup sont devenus de véritables fanatiques. Chaque fois que je rends visite à Lou Henri, il semblerait que ma journée n'est soit que meilleure, et la seule chose que je déplore, c'est de ne pas avoir découvert cet endroit plus tôt."
Phil Austin - Iowa City, Iowa.
In the last three years following this first encounter, I have brought many of my traveling blade-friends to Lou Henri for a fresh meal before a long day of shredding and many from throughout the state have now become huge fans. Every time I visit Lou Henri I seem to have a better day, and the only thing I regret about this favorite place is that I didn't discover it sooner."
Phil Austin - Iowa City, Iowa.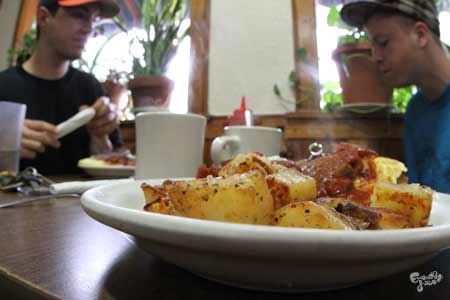 Fresh from the kitchen.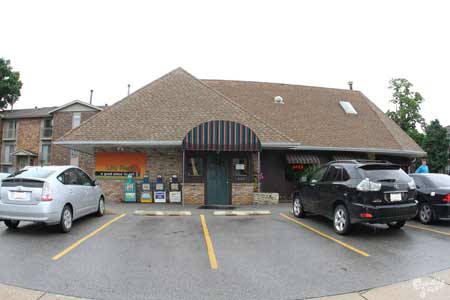 The view from Iowa Avenue.
"Phil Austin de Iowa City est notre spécialiste culinaire. Alors quand il m'a parlé de cet endroit où nous devrions prendre le petit-déjeuner avant d'aller rouler, j'étais assez émoustillé. La nourriture n'a pas un tel effet excitant sur ma personne d'habitude, mais quand je suis rentré chez Lou Henri mon estomac a commencé à gronder et mon esprit à divaguer. Dans l'ambiance de cet établissement, je me suis senti le bienvenu, et cela prouve bien à quel point cet endroit est spécial.
"Phil Austin of Iowa City, Iowa is our scenes food connoisseur. So when he told me he had a place we needed to eat breakfast at before skating one day I was pretty excited. I don't usually get overly excited about food, but when I walked into Lou Henri restaurant my stomach started rumbling and my mind going crazy. The overall vibe of the establishment welcomed me and gave me the sense that this restaurant was special.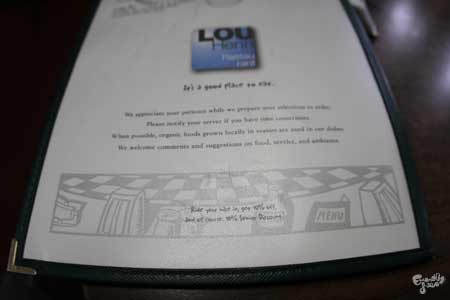 The menu.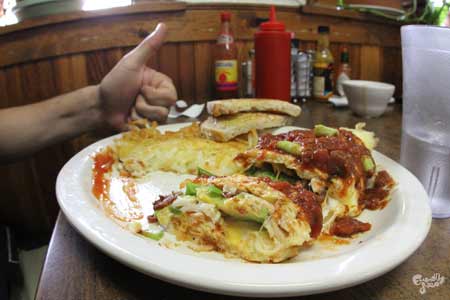 Phil Austin approved Pueblo omelet.
Lou Henri est notre lieu de prédilection pour prendre un petit déjeuner. L'ensemble du staff est constitué d'étudiants, principalement de jeunes femmes tatouées au sourire engageant, et du propriétaire, Jeffrey Currie, qui passe l'ensemble de son temps dans la cuisine. Lou Henri est devenu notre lieu de rendez-vous pour chaque session à Iowa City. Phil ne jure que par l'omelette Pueblo, Justin "Jefferson" Augustus recommande les plats végétariens, et le must pour moi reste le Huevos Diablo.
And it is. Lou Henri is the coolest place to eat breakfast. The wait staff are all young college students, mostly tattooed females who serve with smiles and full sleeves, and the owner, Jeffrey Currie, is usually always back in the kitchen. Lou Henri has become our breakfast spot anytime we session in Iowa City. Phil swears by the Pueblo omelet, Justin "Jefferson" Augustus recommends anything veggie, and I push people towards the Huevos Diablo.
Le slogan "C'est un bon endroit pour manger" est un euphémisme. Lou Henri est le meilleur endroit pour se restaurer avant une session. Leur cuisine bio et locale vous met droit dans vos bottes, sans avoir à casser votre tirelire. La plupart des plats n'excède pas huit dollars.
The motto "It's a good place to eat" is an understatement. Lou Henri is the good place to eat for bladers in Iowa City before a session. Their organic, local cuisine makes you feel like a million dollars without having to spend much. Most of their dishes do not exceed eight dollars.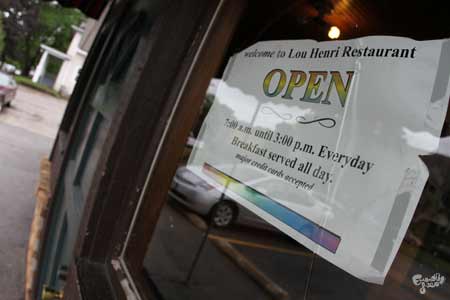 Breakfast served all day.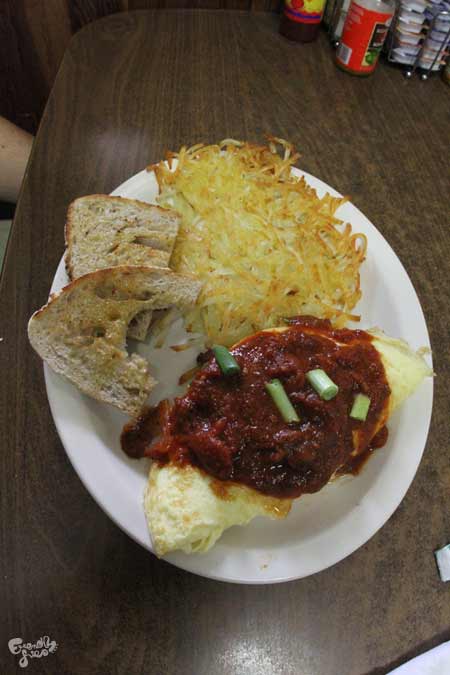 Deliciousness.
Bien que le petit déjeuner reste notre choix principal la plupart du temps, Lou Henri propose aussi des salades, des sandwichs, des menus pour enfant ainsi que les spécialités du chef. Il est aussi utile de mentionner que Jeffrey et son personnel propose une réduction de 10% pour les clients qui viennent à vélo. Pour une majorité d'habitants d'Iowa City qui ont adopté ce moyen de transport, c'est l'attraction principale d'Iowa Avenue, envahissant le restaurant tous les matins.
Although breakfast is our main choice every visit, Lou Henri also offers appetizers, salads, sandwiches, chef specialties, and kid's stuff. It also doesn't hurt that Jeffrey and his staff offer a ten percent discount if you ride your bike in. Since a majority of Iowa City residents pedal around, this is a main attraction of Iowa Avenue, making Lou Henri busy every morning.
Finalement, l'établissement Lou Henri de Jeffrey Currie est le point de rendez-vous de toutes nos sessions à Iowa City. Après une bonne omelette et quelques tasses de café, tout le monde est prêt à tout arracher."
Bruce Bales - Bettendorf, Iowa.
All in all, Jeffrey Currie's Lou Henri restaurant is the meeting point for sessions in Iowa City. After an omelet and few cups of coffee everyone is ready to rip and tear."
Bruce Bales - Bettendorf, Iowa.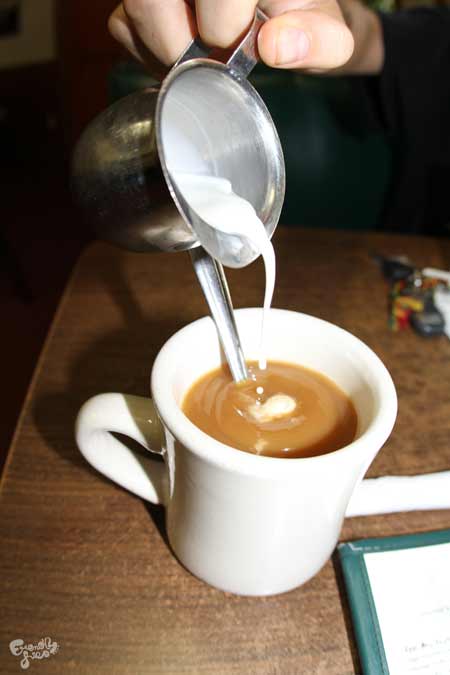 Lou Henri Restaurant
630 Iowa Avenue
Iowa City, Iowa 52240
Hours: 7:00AM to 3:00PM - Everyday.
Credits : photo by Bruce Bales, words by Phil Austin and Bruce Bales.