MONTAGE : HOW TO SURVIVE THE COLD WINTER
Par Frenchyfries, mardi 25 janvier 2011 à 15:56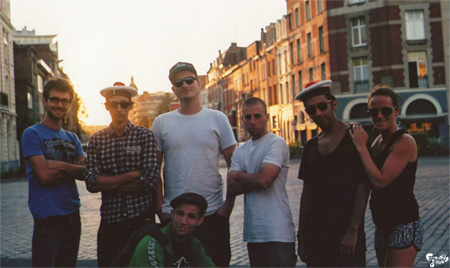 Tout comme les saisons se succèdent, c'est le genre d'article qui revient de façon assez périodique. Mais enfin, tout le monde sait que l'hiver, ça craint, et que patiner dans le froid n'est pas la facette la plus agréable de ce sport. À moins que ne vous profitiez de la vie en Californie, vous avez sans doute compris cela il y a bien longtemps.
Just as the seasons come and go, this is the type of article I get to write every once in a while. But come on now, everybody knows winter sucks, and that blading in the cold most definitely isn't the best part of the game. Unless you're living the life in California, you must have realized that a long time ago.
Mais alors que vous en venez à perdre la foi, Frenchy Fries est là pour raviver le souvenir de la belle saison estivale qui finira bien par revenir un jour. Alors juste au cas où la vidéo
Game Theory
ne vous ait pas convaincu du plaisir de patiner torse nu, nous réitérons la tentative !
But just as you're starting to lose faith, Frenchy Fries is here to remind you of the great summer season that will come around eventually. So just in case Razors'
Game Theory
didn't convince you of how much fun it is to skate without a shirt on, consider this edit as our own attempt !
Les bonnes sessions avec les amis, et les road-trips à travers le continent, voici une piqûre de rappel de cette extraordinaire période de l'année qu'est l'été. Gardez la foi et continuez à battre le pavé de vos patins, parce qu'il sera bientôt temps d'ôter votre tee-shirt et d'aller rouler !
Cool sessions with friends and road trips all around the place, this is a reminder of what a great time of the year summer can be. Don't lose faith and keep on fighting the blade battle, because soon enough it will be that time again to take your shirts off and skate !