PHOTOS : A BELGIAN WEEK IN BARCELONA
Par Frenchyfries, jeudi 16 juin 2011 à 18:14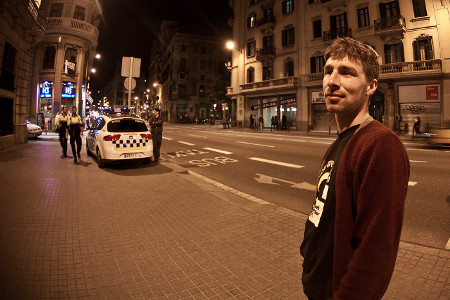 Partir à Barcelone pour une semaine sans réserver ni hôtel, ni auberge de jeunesse pouvait s'avérer compliqué. Surtout chargé comme des mules, en arrivant à minuit dans la ville, juste après une victoire footballistique du Barça sur Madrid, son rival de toujours.
Leaving for Barcelona for a full week without booking any hotel room nor couch to crash on was risky. Even more so that we were carrying all of our bags, arriving around midnight in the city, right after the win of the Barca football club against their long time rival, Madrid.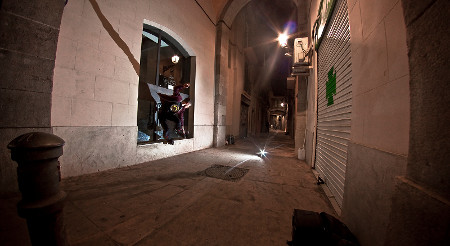 Stéphane Mosselmans, backslide devant chez Rui, dans les Ruelles de la Ciutat Vella.
C'était sans compter sur l'intervention de Rui "the pimp" Viera, le sauveur de Barcelone qui nous aura accueilli comme des rois. A un détail prés, l'absence de sanitaires dans l'appartement...
However, that was ruling Rui "the pimp" Viera, the local savior that arranged everything for us and welcomed us like kings, out of the equation a little too soon. Only small problem, the lack of any WC inside his apartment...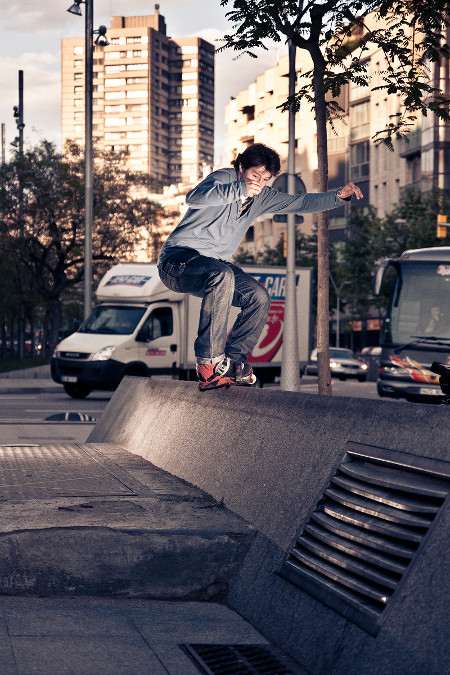 Manu, torque soul.
Une fois débarrassés des sacs, la découverte du centre en roller s'imposa. Le charme de l'endroit fit vite effet, chaque pot de fleur, fontaine, muret ressemblait à un spot parfait. Le simple fait de se rendre d'un spot à l'autre en tachant de suivre tant bien que mal nos guides était un réel bonheur tant les petites ruelles du centre sont dépaysantes.
Once we got rid of our bags, our first move was to roll downtown to visit. The charm of this place soon took over, each flower pot, fountain, ledge looking like a perfect spot. The simple act of rolling in between the spots while following our guides in the narrow streets of old town was an exciting adventure in itself.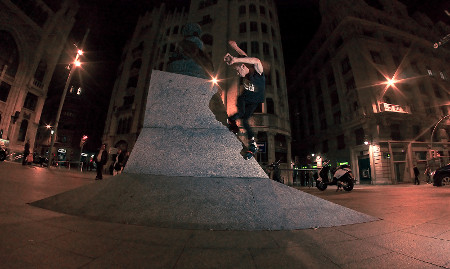 Stéphane Mosselmans, 360 top soul on the edge.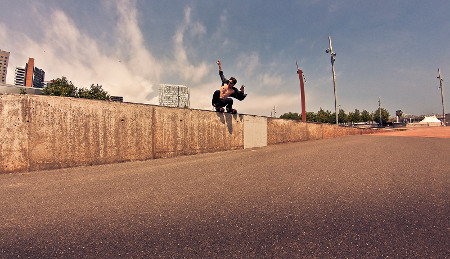 Stéphane Mosselmans again, with a long back full torque.
Après une session qui dura tard dans la nuit (et après avoir réussi tant bien que mal à ne pas rester enfermés dehors comme des losers), notre hôte vint nous réveiller pour une déjeuner parfaitement adapté à l'heure et la journée qui nous attendait. Une espèce de croque monsieur baguette à l'omelette accompagné d'une café au lait.
After a session that kept on going late at night (and successfully not being locked out of the apartment until the morning), our host woke us up at the appropriate time to enjoy the perfect meal. Exactly what we needed for the day that was yet to come: some sort of omelet wrapped up in a baguette with cheese, along with a cafe latte.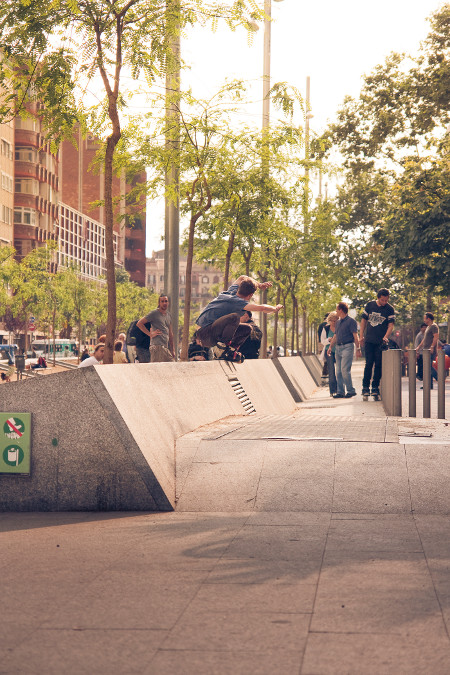 Stéphane Mosselmans, backside royale to front farv to something I can't remember but hoax 2 inspiration...
Plutôt consistant, mais impossible de vous dire comment commander ça. Vu mes compétence en espagnol, c'est Rui qui s'en occupait. Durant tout le séjour, c'est lui qui nous aura presque toujours emmené au bonnes adresses, où se taper un bon déjeuner pour la session à venir, un repas d'après session à 2h00 du mat' ou une vodka redbull monstrueuse pour 5€.
Quite a heavy meal indeed, and I have no idea how it is actually called. Given my beginner's spanish, Rui took care of it. He took care of everything actually, during all of our stay, always bringing us to the good spots, the good restaurants, even for an after session meal at 2 in the morning, or huge drinks like 5€ vodka & redbull.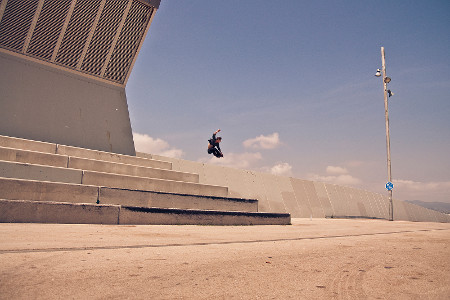 Stéphane Mosselmans, gap 180.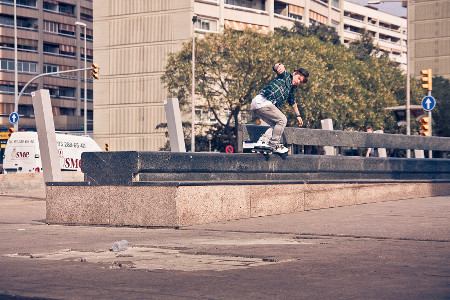 Tom Krasovskis, backside savannah.
Lorsque le séjour ne dure qu'une semaine, pas le temps pour une journée de repos donc session quotidienne obligatoire (pas forcément de jour). Pas le temps non plus de s'attarder sur un spot, il y en a tellement, des mythiques, des nouveaux, des jamais skaté, il aura fallu les enchainer pour tester tout ceux qui nous faisaient rêver en vidéo. A cause de cela, nous n'aurons que brièvement rencontré les sympathiques locataires du moment de la Powerhouse.
When you're only staying for a week, there's no time to take a minute off, so we truly skated every single day (but not necessarily in the day time). No time to get lazy on a spot either, there were so many of them that we had to run from one to the other in order to skate all the places that we dreamed about when watching classic videos. For this reason, we only had a few chances to skate with the infamous inhabitants of the Powerhouse.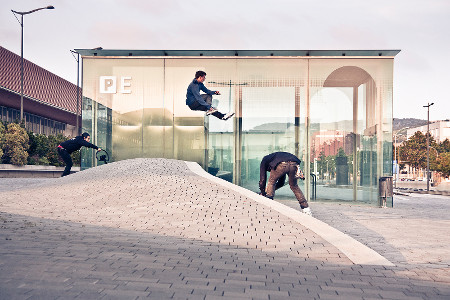 JC Rowe, 720 liu kang, and the Xsjado filming team.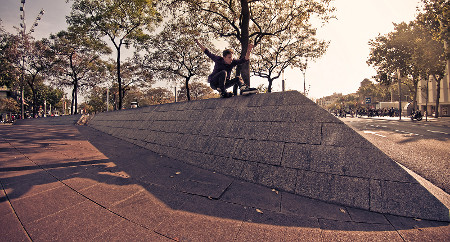 Stéphane Mosselmans, top acid to fakie.
Revenir un mercredi soir tard dans la soirée chez soi et travailler le lendemain matin aux aurores après cette semaine idyllique dans la capitale catalane m'offrit un brusque retour à la réalité. Une chose est sûre, c'était pour moi une première fois, mais il est certain que j'y retournerai !
Coming back home in Brussels late on a Wednesday night in order to go back to work the day right after early in the morning after such a perfect week in Catalonia was quite a brutal awakening. But one thing is for sure, it was only my first time in Barcelona, but certainly not the last one !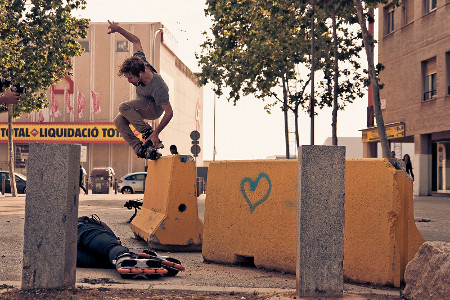 Richie Eisler, wall tap to darkside tru fish, and Dustin taking a closer pic.
Photo credits : photography and write-up by Mathieu Hennebert, translation by Freddy White. Team work by Frenchy Fries.