KULTURE : EVERYDAYZ SUMMER TAPE, JUNE TWENTY ONE
Par Frenchyfries, mardi 21 juin 2011 à 22:29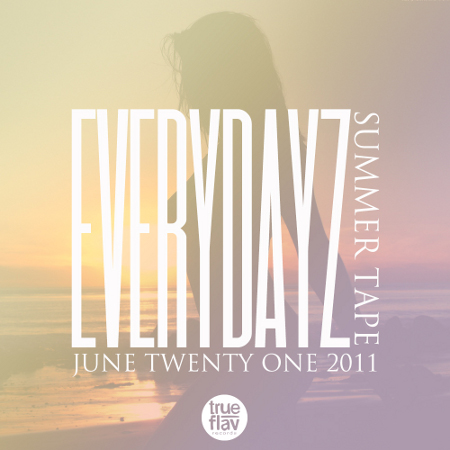 Avec le premier jour de l'été, les Français fêtent la musique et à travers le pays, dans chaque rue de chaque ville résonnent les notes ensoleillées. Ayant développé sa passion, et dédié son temps à la musique depuis plusieurs années, notre ami
Ilia « Everydayz » Koutchoukov
a tenu à célébrer lui aussi l'événement à sa façon.
With the first day of Summer, French people celebrate music and all over the country, you can hear music playing in every street of every city. As he developed his passion, and dedicated his time to music for many years now, our friend
Ilia "Everydayz" Koutchoukov
thought there wouldn't be a more appropriate time to celebrate his birthday too.
Ainsi, il vient juste de mettre en ligne sa toute dernière mixtape, qu'il a logiquement baptisé « Summer Tape ». Le moyen idéal de célébrer la passion, le dévouement, et la musique. Le moyen idéal pour Frenchy Fries d'inviter tout le monde à cette fête, et de vous apporter un peu de saveur du terroir en prime.
In consequence, he just dropped his last mixtape today, which he appropriately entitled "Summer Tape". A perfect way to celebrate passion, dedication, and music. A perfect way for us over at Frenchy Fries to share this celebration with the entire world, and bring some of this French flavor to you.
Tout l'album est disponible au téléchargement
(ou à l'écoute en ligne, c'est gratuit de toute façon), alors prêtez une oreille attentive à la musique d'Everydayz, et fêtez l'été comme il se doit. Appréciez la musique, appréciez ces bons moments, ce temps délicieux, et bien sûr, les belles journées de patin qui nous attendent !
The whole album is available for download
(or you could just listen to it online, it's all for free anyway), so make sure to check Everydayz's music and feel free to celebrate Summer like every respectable French person would do. Enjoy the music, enjoy the good times, the good weather, and of course, enjoy the good blading days ahead of us !