PHOTOS : MISSING OUT AND NOT GETTING HIGH IN BULLE
Par Frenchyfries, mercredi 14 novembre 2012 à 17:00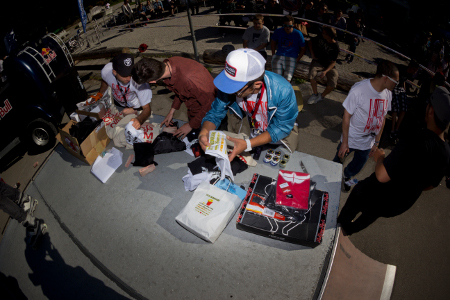 Y aurait pas du, mais en fait si, quand même. Ils ont encore fait un truc à Bulle cette année. Bon, pas comme les autres années, parce que la connerie des jeunes riders semble suivre la même courbe que l'évolution du niveau en patins, et que donc certains abrutis ont quand même réussi à faire péter une bombonne de gaz dans le camping. Wallah.
It wasn't supposed to happen, but it happened nonetheless. They hosted another event in Bulle this year. Well, it wasn't really like every other year, because youngsters' stupidity seems to have follow the same progression curve as the level of skating, and it came to a point where they thought it was normal to have gas explosion on the camping site. Wallah.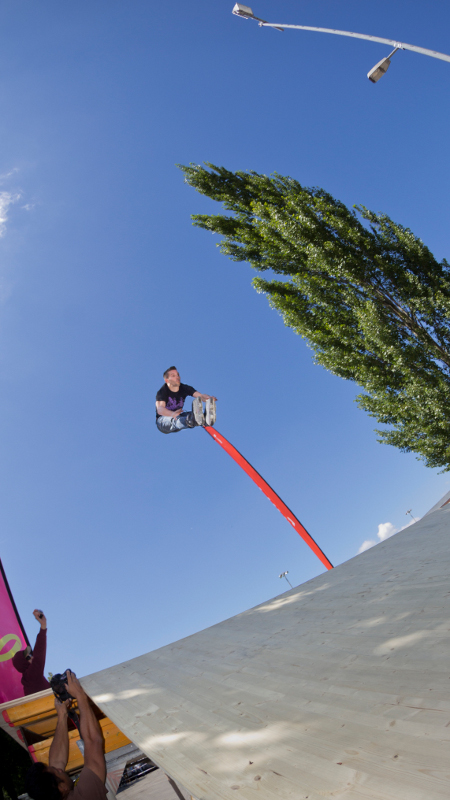 Encore une année de plus, et c'était l'attentat suicide, à la syrienne. Genre Jimmy avec de la dynamite dans le cul pendant son run, et se jetant dans le public, membre en avant. Pas des viols collectifs non, ça, ça a surement déjà dû avoir lieu. Les exhibitions sexuelles en plein après-midi aussi.
One more year down that road, and we'd have witnessed suicide bombing for sure. Syrian style. One could imagine Jimmy skating his run with a stick of dynamite, stuck up his ass, jumping in the attendance, his sex first. Or public gang-banging, but actually, that might have happened already. Truly indecent exposure in the middle of the afternoon, that did happen, for sure. Too many times to count.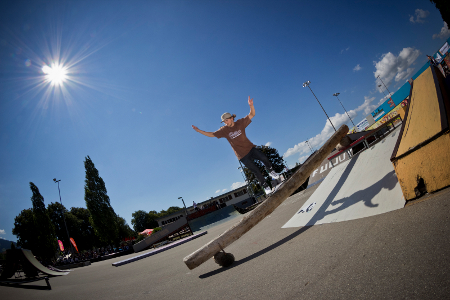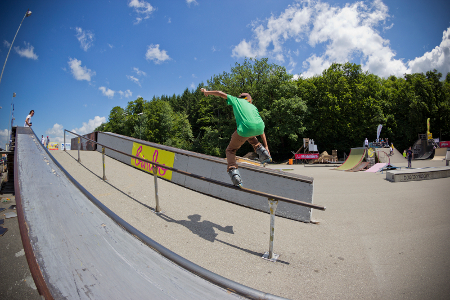 La Suisse n'ayant pas connu de telles violences depuis Guillaume Tell, décision a été prise de transformer cette sorte de festival breton du roller (de la pluie, et trop d'alcool ) en une seule et simple après-midi de joute à roulettes. Ce devait être nul, vu que j'y étais pas. En plus, paraît qu'ils renâclaient à filer des bières aux juges. J'ai bien fait d'aller me perdre en Roumanie moi !
The good people of Switzerland having not witnessed such acts of violence since William Tell, a decision had to be made: change this Brittany-like blade festival (lots of rain, and even more alcohol) into a single afternoon of competition. I'm sure it sucked, since I wasn't there. I even heard they weren't as fast serving the judges some beers as they were before. How right was I to go lose myself in Romania !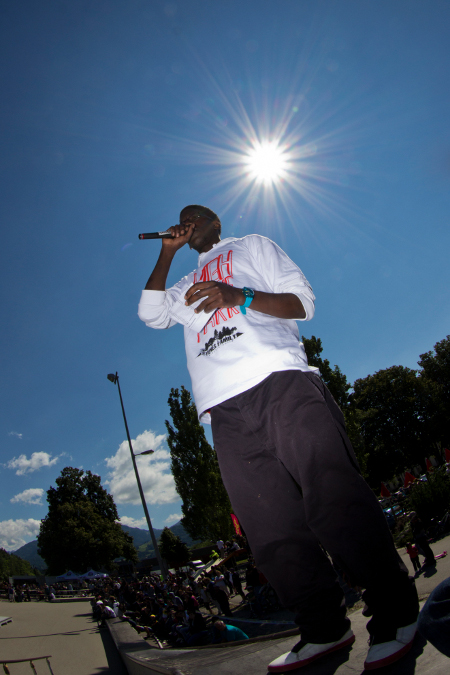 Je suis tout de même sensé parler un peu du contest, mais le tenancier de ce magnifique site ne m'a même pas envoyé les photos qui doivent illustrer mon non reportage. Sinon, je suis sur que j'aurais pu trouver quelques conneries à dire sur des éléments de décor derrière les riders, type un Bullois bourré ressemblant de trop à Roger Federer, et qui finit tous ces week-ends en grognant. Je l'aime bien celui là. Ou sur mes copains suisses allemands, dont Sandro qui ressemble à Tintin, et dont je suis trop jaloux pour ça.
Still, I'm supposed to write a little bit about the event, but the guy running this wonderful website didn't even send me the pictures illustrating this report. I'm sure I would have found a lot to talk about in the background of the photographs, like this drunken Bulle local who looks just like Federer, and always ends up grunting when Sunday evening comes. I think I like this one dude. Or these other guys from the German part of Switzerland, like Sandro who looks way too much like Tintin, whom I'm really jealous of because of that.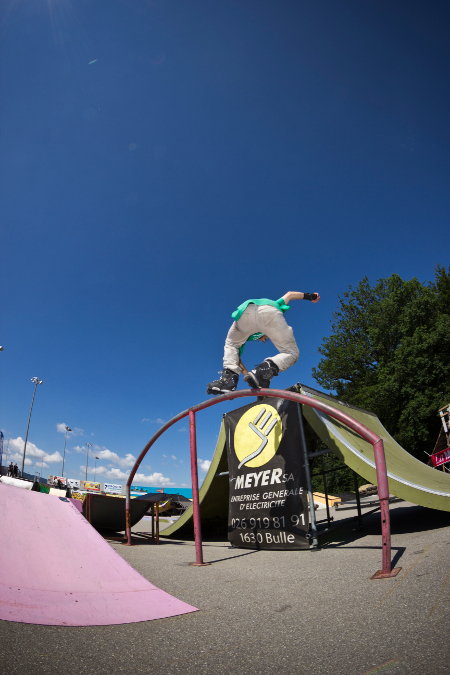 Quoique je peux toujours parler de la taille gargantuesque du sexe de Mugabo, mon speaker noir préféré. Le seul en même temps. Mais je l'aime bien quand même, sauf quand il bave. A ce qu'il paraît, le contest a été bouclé en 2 heures. C'est bien, ça évite de trop s'ennuyer au moins. Je suppose que des mecs ont plaqué des tricks, mais moi j'ai rien vu, et puis de toute façon je parle jamais de tricks dans un article de roller. Les noms sont trop vilains pour être écrits.
However, I could always freestyle about Mugabo's gigantic cock, him being my favorite black MC. Granted, he is the only one. But I do like him a lot, just not when he's drooling. From what I heard, the contest lasted just 2 short hours. That's cool, at least one will not get too bored that way. I suppose people laced some tricks, but I haven't seen anything. I don't ever talk about tricks in a blade-related article anyway. The names just sound too dumb to be written down.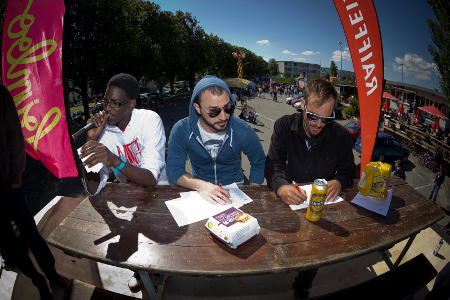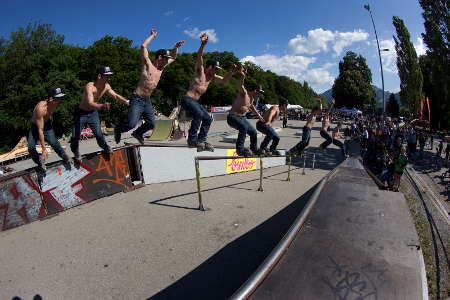 Les deux enfants cradingues du skatepark le plus sale du monde, Cudot et Gul de Bercy, ont posé leurs sales pattes sur les 2 côtés du podium, entourant le mec un des mecs les plus frais de Suisse, le très propre et toujours souriant Adrian Deck. Un habitué qui devait en être à sa 7ème finale à Bulle. Bravo.
The two dirty children of the dirtiest skatepark in the world, namely Cudot and Gul from Bercy, sat their asses on both sides of the podium, surrounding one of Switzerland's freshest blader, the ever clean and smiling Adrian Deck. I believe it was something like his 7th time competing in the finals of the Bulle contest. Bravo.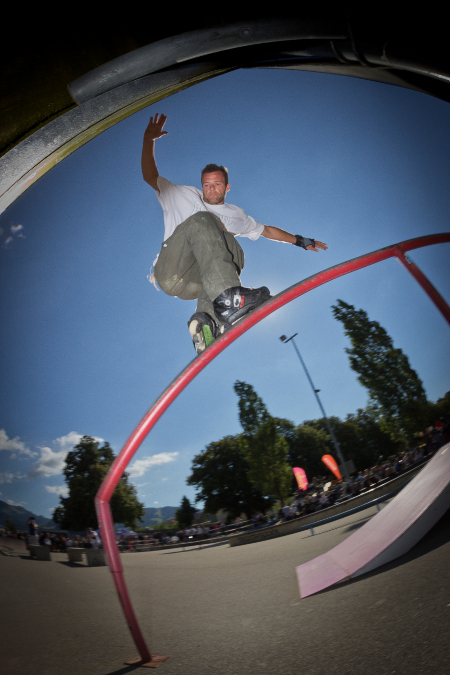 Ça n'a apparemment pas plu au Van Bommel monopatte du roller, ou le voleur international comme vous voulez, qui est allé se plaindre immédiatement auprès du président de l'UEFA, Jacques "Platini" Neveu. Sous prétexte que les juges regardaient ailleurs pendant ses passages. Heureusement, l'arbitrage vidéo, ce n'est pas pour tout de suite, on peut encore tricher. Sauf Zidane. Oui je m'égare un peu, mais je m'entraîne pour postuler à L'Equipe. Ou
So Foot
.
Apparently, it didn't please the one-armed Van Bommel of rollerblading, or the international thief if you prefer, who immediately filed a complaint to the UEFA president, Jacques "Platini" Neveu. Arguing the judges weren't even paying attention during his run. Thankfully, instant replays and video arbitration won't be implemented anytime soon, thus one can still cheat. Besides Zidane. Yes, I am rambling indeed, but I'm training for my next job at L'Equipe. Or
So Foot
.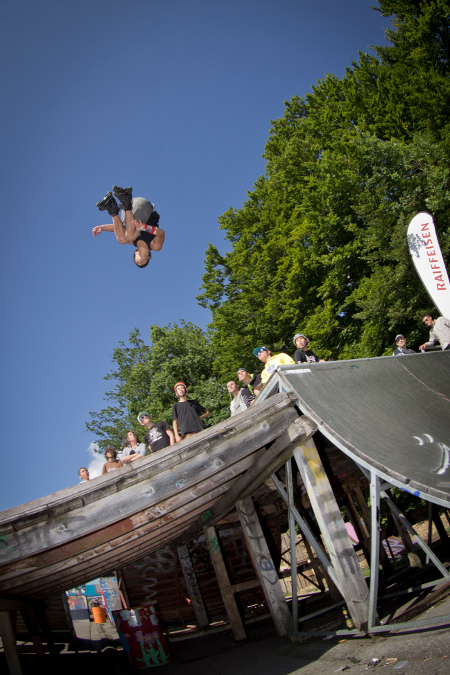 Il reste de tout ça que Bulle, c'était mieux avant... À moins que j'y retourne, quoi. Un peu comme le rap, selon les connards de 30 ans qui croient que leur jeunesse était la meilleure du monde. Cependant, si vous avez envie de passer du bon temps, et de rencontrer moult gens rigolos avec qui lever le coude, je vous conseille d'aller y faire un tour. Surtout en ce moment, parce que notre pauvre Jacko doit un peu s'ennuyer, bloqué chez lui par sa fracture du bassin (Mugabo, on t'avait dit d'y aller doucement) et qu'il faut absolument aller le voir.
Parce que Jacques Neveu, c'est mieux tout le temps.
What will remain of all this, is that it was all better before... Unless I attend next year again. Kinda like hip hop, if you listen to 30 years old pricks who all believe their childhood was the best in the world. However, if you want to have a good time, and meet a whole bunch of cool people who are always fun to share a drink with, I advise you to go check the place out for yourself. Especially now, since our good ol' Jacko must be a little bored these days, locked up at home with a broken pelvis (Mugabo, we all told you to go easy on him), and not paying him a visit isn't an option.
Because it never stop getting better with Jacques Neveu.
Write-up by Etienne Camus, photography by Guillaume Baeriswyl, team work by Frenchy Fries.