QUENTIN MANDRON & LOUIS VILAR
Par Frenchyfries, dimanche 30 mars 2008 à 00:13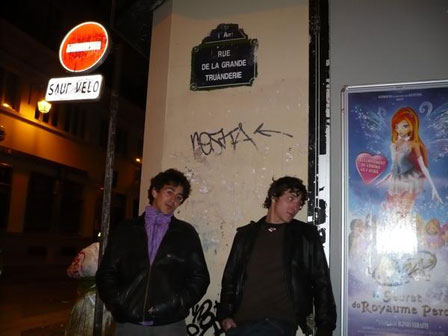 A Lyon, apprendre le patin à roulettes peut être compliqué, parfois. Ce que je veux dire, c'est qu'il faut être solide pour survivre à l'Ecole de Foch, et à l'enseignement sous forme de taille verbale prodigué par des anciens tels Nicolas Bellini ou Thomas Pfluger.
Growing up skating in Lyon can be hard, sometimes. I mean, you have to be tough to survive the "School of Foch", and the harsh comments of masters like Nicolas Bellini or Thomas Pfluger.
QUENTIN MANDRON & LOUIS VILAR
from
Frenchy Fries
on
Vimeo
.
Mais ça peut également être bénéfique, parce que c'est une école où l'on vous enseigne qu'il ne s'agit pas seulement des tricks que l'on fait, mais aussi de la manière dont on les exécute. Et que même si vous vous appelez Miss France ou bien Andrew Reynolds, vous n'êtes pas encore assez bon pour déconner avec ces mecs là.
It can be really good, too, because it's a school that taught you that it's not about the tricks you land, but the way you do them. And also, that even if you are Andrew Reynolds or Miss France, you're still not good enough to mess with these guys.
Quentin Mandron et Louis Vilar ont survécu. On apprend parfois les leçons par la manière forte. Approchant chaque obstacle à fond la caisse et replaquant chaque trick avec classe, les rues lyonnaises appartiennent désormais à ces sales types. Quentin a même gagné sa place dans le team Razors France, et skate également pour Ground Control et les roues 4X4. Je suppose que la leçon du jour est : ne déconnez pas avec Lyon, ne déconnez pas avec ces types, et appréciez l'edit concocté pour vous par Samuel "Bodchoy" Courdent !
Quentin Mandron and Louis Vilar survived. Lessons are sometimes learned the hard way. Approaching every obstacle with speed and landing every trick with steeze, the streets of Lyon do now belong to these guys. Quentin even earned himself a spot on the French Razors team, and also skates for Ground Control and 4X4 Wheels. I guess today's lesson is: don't mess with Lyon, don't mess with those guys, and enjoy the edit made for you by Samuel "Bodchoy" Courdent !
(Foch a été mis à l'honneur dans l'article Spot-ed du 8ème numéro de One Magazine)
(Foch has been featured in the Spot-ed article of issue #8 of One Magazine)
Music: Joy Division Atmosphere