SUPPORT : KENDAMA SESSION FOR ALEX BROSKOW
Par Jey, lundi 26 mai 2008 à 20:29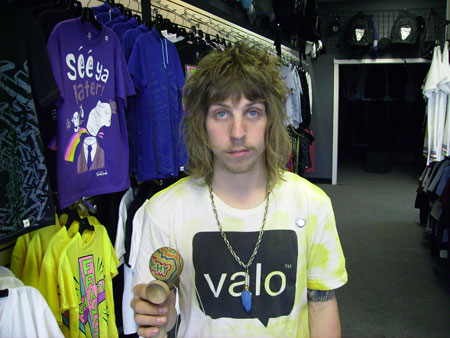 Le Kendama a vu beaucoup de commentaires négatifs dans le monde à roulettes ces derniers temps, si l'on en croit le nombre de conversations qui y sont dédiées sur les forums de notre petit monde. Il est amusant de voir à quelle vitesse un groupe marginal comme le notre peut rejeter une activité plus marginale encore. Je me demande seulement comment prendre au sérieux un zozo avec une paire de patins à roulettes attachée aux pieds quand il déclare que ce morceau de bois est "gay"...
Kendama has brought a lot of hate in the world of rolling lately, judging by the number of threads dedicated to the subject on the messageboards of our community. It's funny to see how fast a bunch of outcasts are to pick their own little thing to ostracize. I just wonder how serious can some weirdo with skates strapped to his feet be when he declares this piece of wood looks "gay"...
Le Kendama est un jouet japonais que vous avez tous probablement déjà vu alors qu'il fait son apparition dans le petit monde du patin à roulettes. Mais ce que vous avez pu considérer comme la dernière mode existe depuis plus de 300 ans de l'autre côté de la planète, et est réellement très populaire depuis un bon siècle. Le Kendama est arrivé aux USA par le biais des sports "extrêmes" comme le ski, le skateboard et même le roller. Vous pourriez penser que c'est une simple coïncidence. Ca n'en est pas une. La liberté et la technique que vous developpez une fois les bases maîtrisées, et la possibilité de s'approprier son propre style le rendent semblable au patin à roulettes. Au final, juste une chose amusante à pratiquer...
A Kendama is a japanese toy that you've most probably gotten a chance to see as it emerges into the little world of rollerblading. But what you may consider as the latest trend has existed for more than 300 years on the other side of the planet, and has been really popular for the last century. It's been brought to the US through action sports like skiing, skateboarding and even freestyle rolling. You may think it's a coincidence. It is not. The freedom and technicality you get once you master the basics, and the fact that you can develop your own style make it look really similar to the art of rolling. In the end, just a fun thing to do...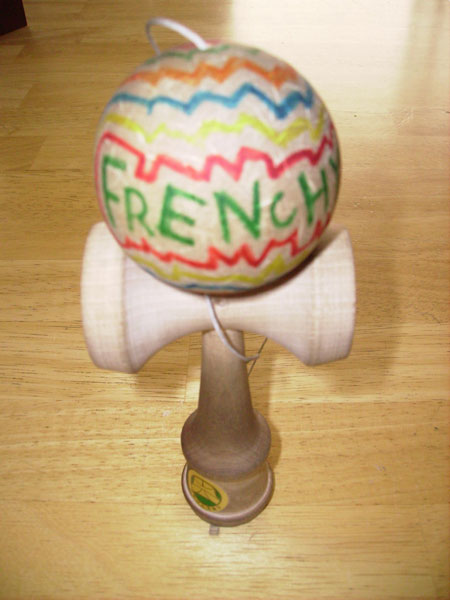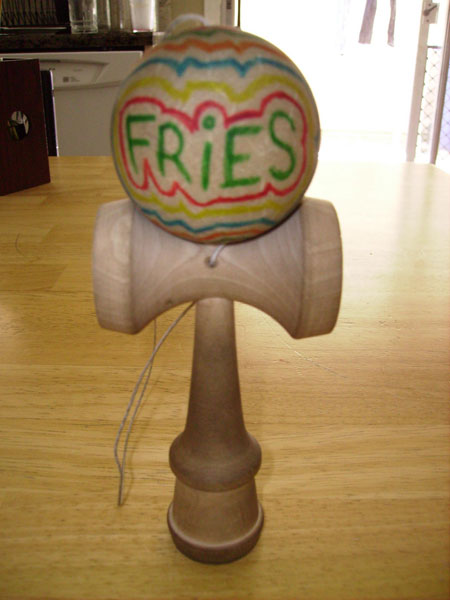 Le Kendama est une parfaite activité quand vous n'êtes pas en train de rouler, mais voulez rouler quand même. En quelque sorte, je m'en suis aperçu en tour avec ThemGoods (
http://themgoods.com
) en Arizona. La technique incroyable de Victor Arias et Brandon Smith, la fluidité du geste de Robert Guerrero, la maîtrise d'Alex Broskow et les stalls impossibles de James (
http://www.revolutionskate.com
), tout cela reflète certains aspects de leur façon de skater. En définitive, je suis heureux de partager avec vous ces photos d'Alex profitant d'une petite session avec mon Kendama. Appréciez le support, et sentez vous libres de critiquer autant que vous voulez !
Kendama is a perfect activity when you're not rolling, but still want to roll. I kind of realized that while on tour with ThemGoods (
http://themgoods.com
) in Arizona. The incredible skills of Victor Arias and Brandon Smith, Rob G's smooth maneuvers, Alex Broskow's control and James (
http://www.revolutionskate.com
) crazy stalls, it all reflects the way they skate in some aspect. In conclusion, I'm glad I took some pictures of Alex enjoying a little session with my Kendama. Enjoy the support, and feel free to hate all you want !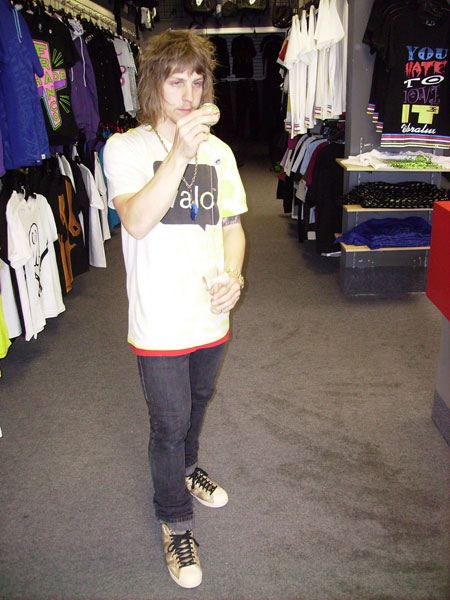 Learn more about Kendama on (
http://kendama.wordpress.com/
)