PHOTOS : THE WORK OF SOFIANE "SAMSOFY" SAMLAL
Par Frenchyfries, samedi 27 juin 2009 à 15:04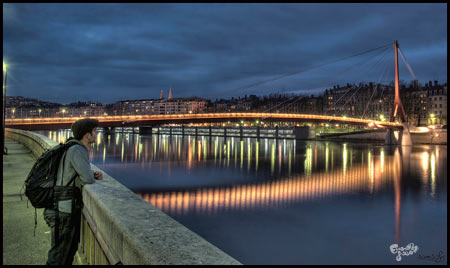 Depuis le lancement de Frenchy Fries, Mr. Samsofy a souvent contribué au contenu du site, avec par exemple un article photo complet sur
Lyon (France)
, ou bien encore quelques magnifiques clichés pour notre
report photo sur le FISE
. Il est donc grand temps d'en apprendre plus sur ce personnage, et de découvrir l'homme, sa vie et son oeuvre ! Enjoy !
Since Frenchy Fries started, Mr. Samsofy has contributed a lot to the content of the site, with a full photo article in
Lyon (France)
, and some really cool shots for our
FISE photo report
for instance. It's only justice that we now get to know him more, as we get some in-depth article about the man, his life, and his work. Enjoy !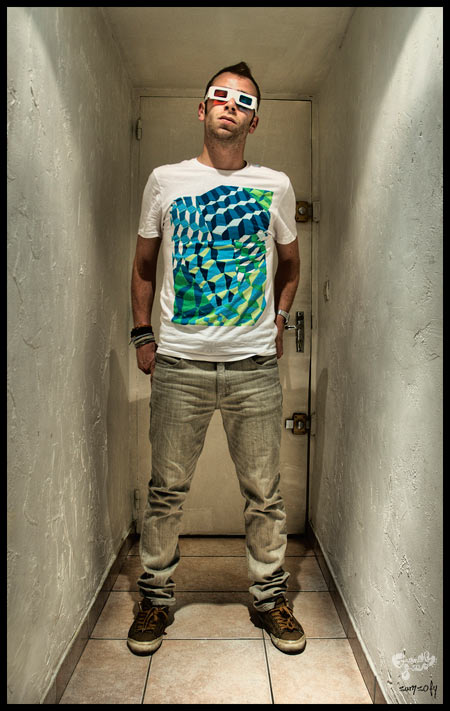 Nom/Name :
Samlal (c'est important pour mon père)
Prénom/Forename :
Sofiane
Surnom/Nickname :
Samsofy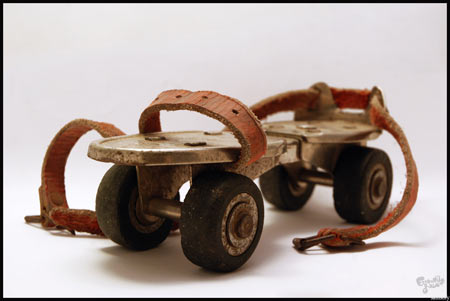 J'ai commencé la roulette en 1991 dans la petite ville de Dole, dans le Jura. Quand je suis arrivé en France, ma grand-mère m'a donné une paire de patins à roulettes que sa propre mère lui avait offert. Ensuite, très vite limité, je suis passé aux quads, puis aux premières paires de "patins en ligne", puis des rollers avec de vraies roues en gomme ! Je me rappelle même avoir essayé de mettre des pièces de Mécano pour me fabriquer des grindplates !
I started rolling back in 1991 in a small town named Dole. When I arrived in France, my grandmother gave me a pair of skates her own mother had given to her. Then, I got some quad skates, and after that a few pairs of inline skates, and eventually some skates that had wheels made out of real urethane ! I remember I even tried to use some Mecano parts as grindplates !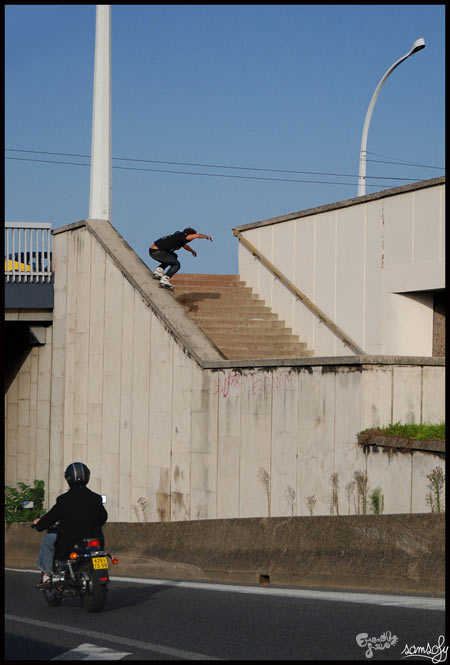 Louis Vilar - Back Royale - Lyon
Pour résumer l'esprit des débuts: place du marché, 2/3 groupies, le baggy, la chaine de portefeuille, du Rage Against The Machine dans les oreilles, le walkman à la ceinture, on jumpait sur un petit tremplin pour se faire 3-4 sous et aller acheter des bombecs.
Puis le permis, Lausanne '98, une grosse claque dans ma gueule, bam ! Arlo, Tim Ward, René Hulgreen, j'étais tel une vierge devant une bombonne de chantilly, enfin tu vois ce que je veux dire ! Je me suis baladé de ville en ville, j'ai résidé à Besançon où j'ai fait mes armes, et maintenant cela fait désormais une petite année que je suis arrivé sur Lyon.
The spirit of how it all started : Market's place, 2 or 3 little groupies, baggy pants, my wallet's chain hanging out, RATM playing loud in my ears, walkman strapped to my belt, launching off a small bank with my friends to earn a few bucks and buy some candy.
Then I got my driver's licence. Lausanne '98, like a slap to my face, bam ! Arlo, Tim Ward, René Hulgreen, I was like a virgin in a Pulp Fiction script, if you know what I mean... I went from a town to another, I lived in Besançon for a while and now it's been almost a year since I moved here in Lyon.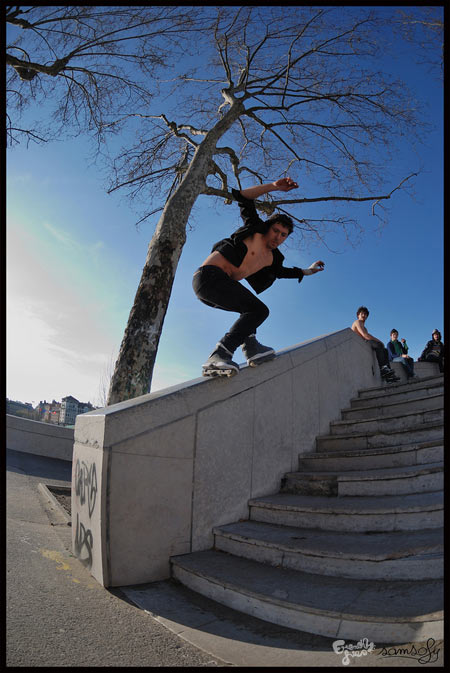 Quentin Mandron - True Spin Mizou - Foch (Lyon)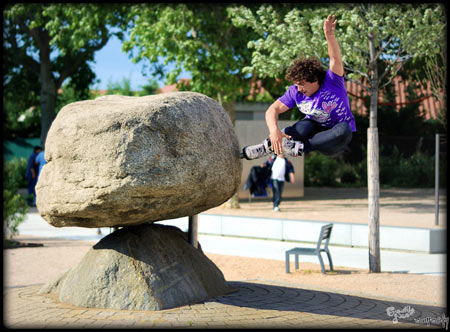 Louis Vilar - Alley Oop Wallride
La photographie, c'est une passion très récente, j'en rêvais depuis longtemps, et il y a environ deux ans j'ai franchi le pas et j'ai pris un crédit pour m'acheter du vrai matériel.
Pour l'instant, je n'ai pas la prétention de me professionnaliser, je travaille au Pôle National du Jeu et du Jouet, et je n'ai malheureusement pas le temps de faire les deux. Mais c'est sûr que ça me plairait réellement.
Photography is a relatively recent passion, I dreamed about doing it for a long time, and approximately two years ago I finally did, just went for it, borrowed some money from the bank to buy some real equipment. As of now, I don't think about going anywhere with it professionally, as I work at the "Pôle National du Jeu et du Jouet", and I lack the time to manage to do both. But I would sure enjoy doing so !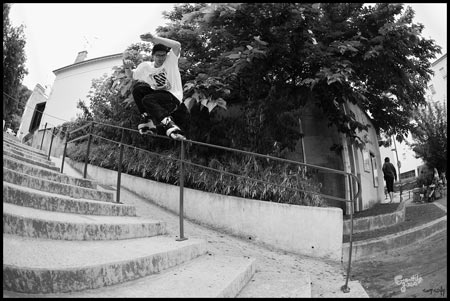 Allan Beaulieu - Back Royale - Lyon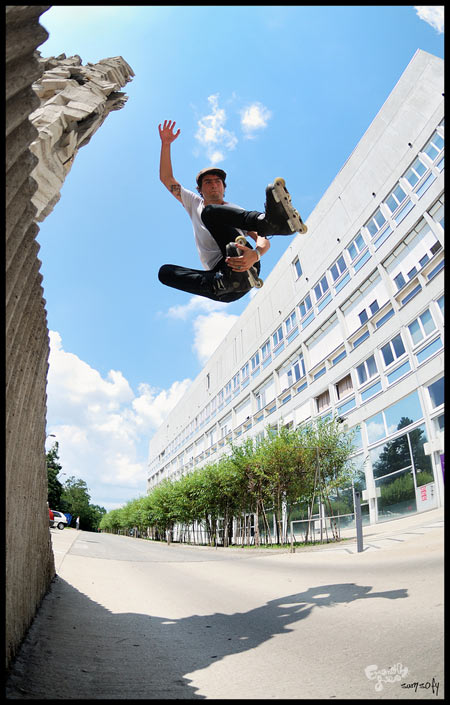 Klément Barbaza - Stale Fish 180
Je shoot au D80 de chez Nikon, c'est une petite machine efficace, mais qui commence à être un peu juste... Je possède aussi un 50mm 1.8f, un 18-70 DX, un fisheye 10.5 2.8f et deux/trois autres objectifs. Puis tout le reste, lampe, boîte à lumière, flash, télécommandes, trépieds, monopodes etc.
I shoot with a Nikon D80, it's a good little machine, but now it's getting a little old in terms of performance... I also own a 50mm 1.8f, a 18-70 DX, a 10.5 2.8f fisheyeand 2 or 3 other lenses. And all the rest of course, light box, flashes, remotes, tripods, monopods etc.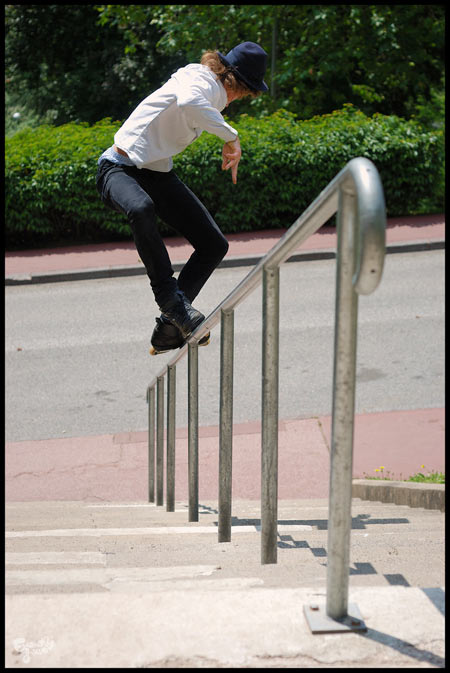 Victor Legrand - Zero Spin Kindgrind
En terme d'inspiration, dans le roller ce que je recherche avant tout, c'est la fluidité et le style, souvent aux dépens de la technique. Je n'ai pas un répertoire de tricks très varié, des tricks assez old school avec lesquels je prends toujours autant de plaisir sur mes roulettes. Je peux passer une journée à faire des mizous, ça m'éclate !
Concernant la photographie, elle reflète mon état d'esprit et la manière dont je vois le skating. Je ne suis pas un photo-reporter, les photographies que j'apprécie le plus, je les réalise avec des riders que je respecte tant au niveau skating qu'au quotidien. J'essaye d'être en adéquation avec mon sujet, je le connais, je sais exactement ce qu'il va faire, et la photo que ça va donner.
Mis à part le roller, j'aime photographier l'architecture, les photos insolites, et faire des portraits de mes potes.
On the subject of inspirations, in rolling, what I truly am after are flow and style, often overlooking pure technicality. I don't do that many different tricks, most of them are old school tricks that I still really enjoy doing on my blades. I can spend a whole day balancing some mizous, and loving it !
In terms of photography, it reflects my state of mind and the way I perceive skating. I am not a photo-reporter, the photographs I like the most are the ones that are taken with people I respect as much for their skating as for themselves. I try to be a complement of my subject, I know the person performing, I know what trick they're going for, and what the picture will eventually look like.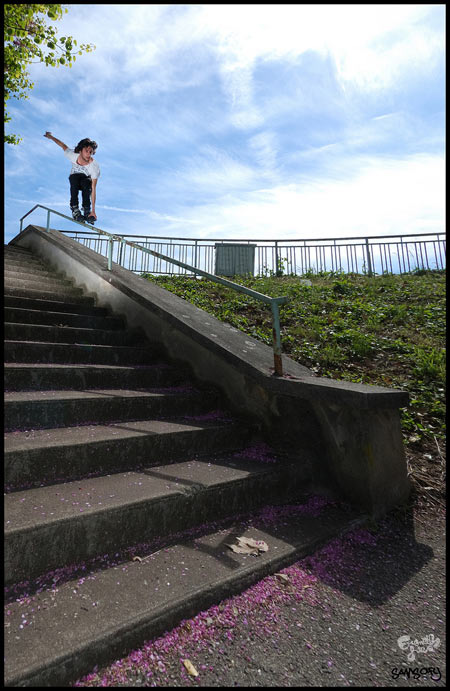 Vasco Moyal - Fishbrain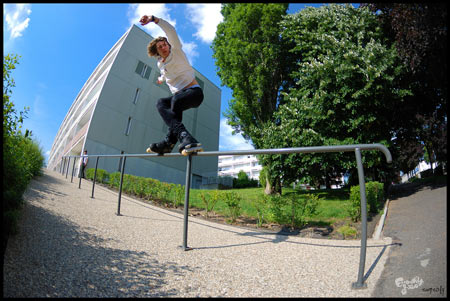 Victor Legrand - Backside Unity
Quant à la belle ville de Lyon, je ne suis sans doute pas la personne la mieux placée pour te parler de la scène, mais ce que j'ai vu en arrivant c'est surtout une bande de potes qui font la fête sur des roulettes. Les sessions sont la plupart du temps accompagnées d'un apéro, ce qui ne facilite pas la mobilité vers d'autres spots que Foch. En même temps, c'est un lieu mythique de la scène roller, et il est vrai que l'on s'y sent bien.
Je roule et shoot principalement avec Louis, Vasco, Quentin, P.A, Thomas, Tony, Nico, Paul, Brioche, et tous les gens de passage...
As for the beautiful city of Lyon, I probably ain't the best person to speak about the scene, but what I have seen since I moved in here is a group of friends that party on their skates. Most of the sessions see some alcohol involved, which doesn't help skating away from our home spot, the infamous Foch ledges. But it's true that it's an important place in rollerblading, and there's always a good reason to feel good there !
The person I skate and shoot pictures with are Louis, Vasco, Quentin, P.A, Thomas, Tony, Nico, Paul, Brioche, and everyone that comes to visit...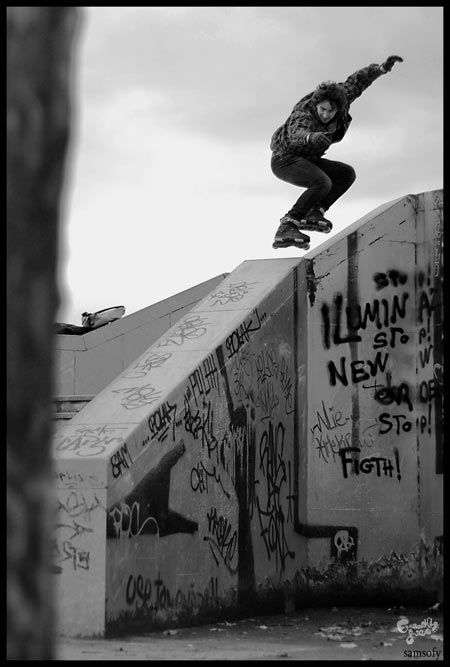 Louis Vilar - Disaster Backside Royale - Foch (Lyon)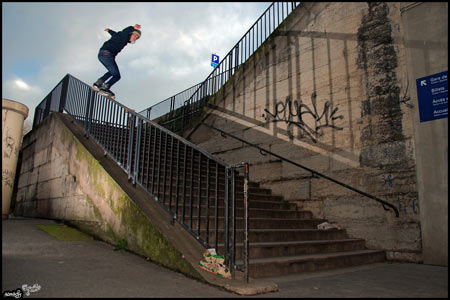 Pierre Adrien Winkelkotter - Back Royale
Et maintenant la question à 1000 Points : ton plat/type de nourriture préféré ? / Now the Million Dollars question : what's your favorite meal/type of food ?
Oh tu vas kiffer, c'est un burger que je fabrique moi-même, avec plein de trucs bien caloriques !
Oh, you're going to love it, it's a burger I make myself, with a lot of very unhealthy ingredients !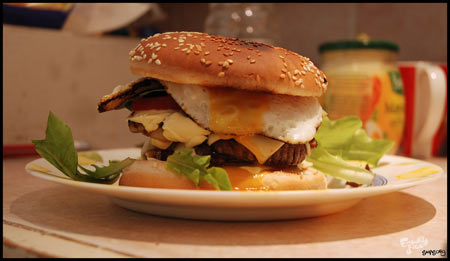 Photos & Text : Sofiane "Samsofy" Samlal
Partager sur Facebook