Par Frenchyfries, mercredi 14 septembre 2011 à 13:59 ::: 5292 fois lus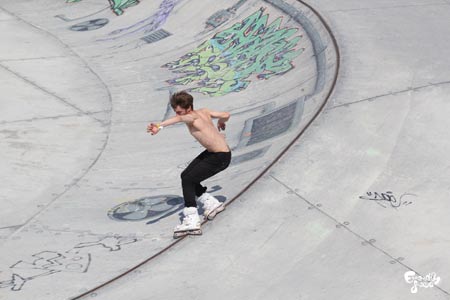 Après une semaine de mauvais temps et de pluie incessante sur le FISE, le soleil a enfin fait apparition bienvenue le dernier jour de l'événement. Tandis que la foule s'agglutinait autour de l'aire de street pour voir les finales, un petit groupe d'irréductibles a préféré faire le trajet jusqu'à Poussan pour rouler plutôt que de regarder d'autres le faire à leur place.
After a week of bad weather and heavy rain down on the FISE, we were finally blessed with a beautiful sunshine on the last day of the event. While the crowd gathered around the street course to watch the finals go down, a small group decided they'd rather skate than watch others do so, and thus took a trip to the lovely bowl in Poussan.
En savoir plus
3 commentaires
Tags: bowl , edit , friends , montage , Poussan , Stéphane Mosselmans , sunday , sunny