Par Jey, vendredi 11 juillet 2008 à 22:08 ::: 6268 fois lus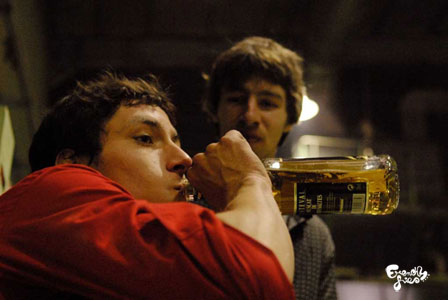 Quentin Mandron et Stéphane Mosselmans sont deux fortes têtes au caractère bien trempé. C'est pourquoi nous avons pensé, pour une fois, qu'il serait logique de les laisser se charger eux-même du texte de présentation de ce profile partagé, filmé à travers plusieurs skate parks de France et de Belgique par Samuel "Bodchoy" Courdent, et monté par ses soins quelque part entre la France et l'Irlande. Enjoy !
Quentin Mandron and Stéphane Mosselmans are two strong characters. That's why we thought that for once, it would make sense to let them take care of the editorial piece to present their shared profile, filmed in multiple skate parks throughout France and Belgium by Samuel "Bodchoy" Courdent, and edited somewhere between France and Ireland. Enjoy !
En savoir plus
550 commentaires
Tags: Belgique , Bruxelles , friends , Lyon , mandron , Quentin Mandron , Stéphane Mosselmans