Par Frenchyfries, mardi 30 mars 2010 à 12:34 ::: 20515 fois lus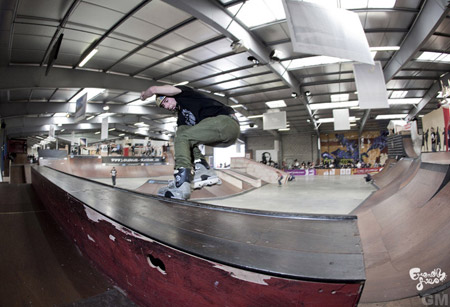 J'attendrai que le patin soit à nouveau populaire pour rester à la maison et attendre que les images des compétitions me parviennent grâce à Internet. En ces périodes sombres cependant, je ferai mon possible pour répondre à l'appel et me joindre à ces assemblées, parce qu'il y a bien bien trop peu d'événements pour ne pas essayer de paraître aussi soudés que notre communauté le permet.
I will wait until rollerblading is big again so I can just stay home and wait for the contests edits and photos to pop up on the Internet. Until then though, I will make it a point to come out and join the sporadic crowd, because there are far too few of these events to not stand as united as our community allows.
En savoir plus
303 commentaires
Tags: Clément Boucau , Gladiator Contest , Greg Mirzoyan , Maxime Kind , photo , Pierre Lelièvre , Roman Abrate