Par Frenchyfries, mercredi 14 novembre 2012 à 17:00 ::: 7683 fois lus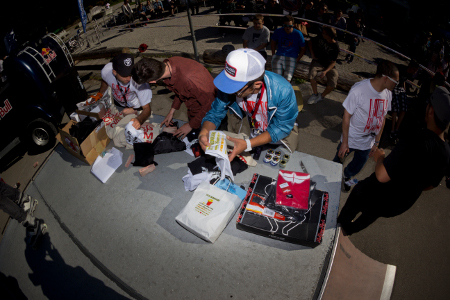 Y aurait pas du, mais en fait si, quand même. Ils ont encore fait un truc à Bulle cette année. Bon, pas comme les autres années, parce que la connerie des jeunes riders semble suivre la même courbe que l'évolution du niveau en patins, et que donc certains abrutis ont quand même réussi à faire péter une bombonne de gaz dans le camping. Wallah.
It wasn't supposed to happen, but it happened nonetheless. They hosted another event in Bulle this year. Well, it wasn't really like every other year, because youngsters' stupidity seems to have follow the same progression curve as the level of skating, and it came to a point where they thought it was normal to have gas explosion on the camping site. Wallah.
En savoir plus
11 commentaires
Tags: 2012 , Adrian Deck , Adrien Anne , Bulle , Denis Gul , High In The Park , Jacques Neveu , Julien Cudot , Mugabo , Stéphane De Freitas