Par Jey, mercredi 31 décembre 2008 à 18:38 ::: 7173 fois lus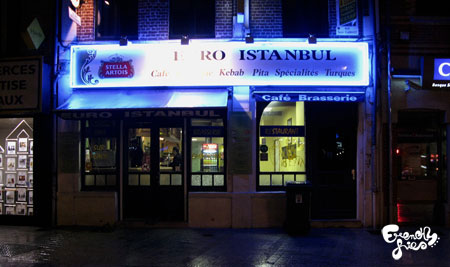 Alors nous voilà, à l'endroit typique d'une after session par excellence, l'Euro Istanbul Kebab à Haubourdin. Il est situé juste à côté de la mairie donc très facile à trouver Une amélioration de la chaussée a été faite ces derniers mois, ce qui améliore le cadre extérieur et propose maintenant des bancs et un rail parfait juste en face du restaurant! Arrivés en terrain conquis, nous serrons la main des proprios et allons nous asseoir directement à notre table réservée.
So there we are, the typical after session spot, the Euro Istanbul Kebab in Haubourdin. Just next to the city hall so easy to find. A brand new pavement with nice benches and a perfect rail, just in the front of the restaurant, that makes the area easy to chill. Just inside, handcheks to the owners and we directly have a sit to our booked table.
En savoir plus
67 commentaires
Tags: bouffe , Fast Food , Friterie , frites , junk food , nord